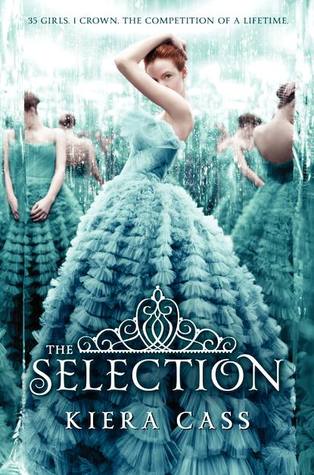 Title:
The Selection
Author:
Kiera Cass
Series:
The Selection, #1
Pages:
327
Acquired:
Bought
Rating:
★★★★
Goodreads Summary:
For thirty-five girls, the Selection is the chance of a lifetime. The opportunity to escape the life laid out for them since birth. To be swept up in a world of glittering gowns and priceless jewels. To live in a palace and compete for the heart of gorgeous Prince Maxon.

But for America Singer, being Selected is a nightmare. It means turning her back on her secret love with Aspen, who is a caste below her. Leaving her home to enter a fierce competition for a crown she doesn't want. Living in a palace that is constantly threatened by violent rebel attacks.

Then America meets Prince Maxon. Gradually, she starts to question all the plans she's made for herself—and realizes that the life she's always dreamed of may not compare to a future she never imagined.
My Thoughts
(If you have not read the book there may be spoilers!):
I know I'm super late on The Selection Series train, I've been focusing more on college than reading books the last couple years, so I've been reading older books and series that I never started! Starting this year, I hope to read more of the older books that I have been meaning to get to that have been sitting on my bookshelves for a while now.
Let's start with the main character, America Singer! I really enjoyed reading about her character, I liked that she wasn't one of those girls who sees a handsome guy and then falls head over heels for him within the first 5 minutes of meeting. She had realistic attitudes about being heartbroken and being put into a whole new environment where she had to figure out what she wanted for herself before she can decide what guy she wants to be with. With that being said, yes there is a start of a love triangle in this book between America, Aspen (the guy that broke her heart but was also America's first love), and Maxon (the crowned prince). I felt that the love triangle was mehhh…. I was more on Team Maxon the whole time so for me it was more of a simple budding romance story between America and Prince Maxon with Aspen on the side trying to see if he still had a chance.
Speaking of Aspen…I didn't really like his character as much. He had America at his fingertips ready to marry him before the Selection even started and he pushed her away due to his own insecurities and pride. I feel that if you find "true love" you should try to make it work regardless of your thoughts or worry about the future. I feel that he was too concerned with the future instead of the present and that cost him.
I did like the competition aspect of the story, I felt that the Selection was an interesting take on the Bachelor meets Royalty spin. I liked that this book also brought in the little parts about Queen Amberly and her family and how the Selection affected her as well. It was good to see that they didn't portray her as some mean and bitter queen that let power get to her head and strip her of some of her compassionate qualities. I've been seeing a lot of books that focus on the Queen being mean and evil rather than nice, regal, and caring like Queen Amberly.
I'm interesting to see how the remaining 6 contestants in the Elite will fair in the next rounds of the competition for the guy and the crown. I'm curious as to what Marlee is going to decide, being that she is the people's favorite and if that will alone give her an edge because the majority of the country seems to be pulling for her in particular. It is always nice to have a country that likes their princess and eventually their queen. Celeste also is one of those characters that I am interested in seeing more of her schemes and deceptive tricks to keep herself in the competition and inch closer and closer to getting that crown.
America definitely has some competition and some personal choices to make between Aspen and Prince Maxon. The next installment in the series, The Elite, will surely answer many more of my questions about how the story will continue to unfold and I am definitely interested in continuing on with this series!
If you have read this book, let me know your thoughts below!!