This week has been quite the reading week for me! I managed to read three books and start a fourth. When the week first started I read
In Honor
by Jessi Kirby Sunday and Monday of this week. Afterwards I moved on to
Clockwork Angel
by Cassandra Clare which I also finished in two days and the next day on Thursday I read
Unbreakable
by Kami Garcia in one sitting in a few hours and I really enjoyed it! Currently I am reading
Missmatch
(Lauren Holbrook #1) by Erynn Mangum and it is actually pretty good so far!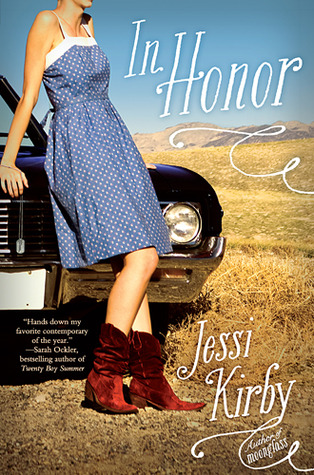 In Honor


Author
: Jessi Kirby
Pages
: 235
Acquired
: Library
Published
: 2012
Rating
: 3.5/5
Goodreads Blurb:
Honor receives her brother's last letter from Iraq three days after learning that he died, and opens it the day his fellow Marines lay the flag over his casket. Its contents are a complete shock: concert tickets to see Kyra Kelly, her favorite pop star and Finn's celebrity crush. In his letter, he jokingly charged Honor with the task of telling Kyra Kelly that he was in love with her.

Grief-stricken and determined to grant Finn's last request, she rushes to leave immediately. But she only gets as far as the driveway before running into Rusty, Finn's best friend since third grade and his polar opposite. She hasn't seen him in ages, thanks to a falling out between the two guys, but Rusty is much the same as Honor remembers him: arrogant, stubborn . . . and ruggedly good-looking. Neither one is what the other would ever look for in a road trip partner, but the two of them set off together, on a voyage that makes sense only because it doesn't. Along the way, they find small and sometimes surprising ways to ease their shared loss and honor Finn--but when shocking truths are revealed at the end of the road, will either of them be able to cope with the consequences?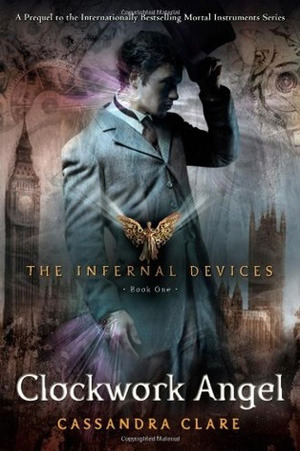 Clockwork Angel (The Infernal Devices, #1)


Author
: Cassandra Clare
Pages
:479
Acquired
: Library
Published
: 2010
Rating
: 4.5/5
Goodreads Blurb:
In a time when Shadowhunters are barely winning the fight against the forces of darkness, one battle will change the course of history forever. Welcome to the Infernal Devices trilogy, a stunning and dangerous prequel to the New York Times bestselling Mortal Instruments series.

The year is 1878. Tessa Gray descends into London's dark supernatural underworld in search of her missing brother. She soon discovers that her only allies are the demon-slaying Shadowhunters—including Will and Jem, the mysterious boys she is attracted to. Soon they find themselves up against the Pandemonium Club, a secret organization of vampires, demons, warlocks, and humans. Equipped with a magical army of unstoppable clockwork creatures, the Club is out to rule the British Empire, and only Tessa and her allies can stop them....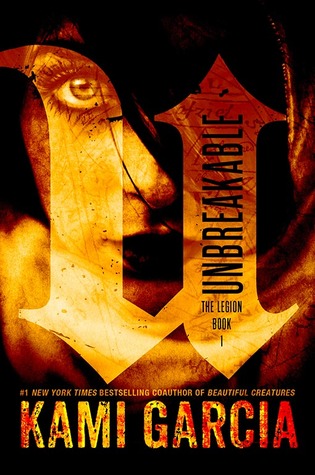 Unbreakable (The Legion, #1)


Author
: Kami Garcia
Pages
: 305
Acquired
: Library
Published
: 2013
Rating
: 4.5/5
Goodreads Blurb:
Supernatural meets The Da Vinci Code in this action-packed paranormal thriller, the first book in a new series from New York Times bestselling author Kami Garcia.

I never believed in ghosts. Until one tried to kill me.

When Kennedy Waters finds her mother dead, her world begins to unravel. She doesn't know that paranormal forces in a much darker world are the ones pulling the strings. Not until identical twins Jared and Lukas Lockhart break into Kennedy's room and destroy a dangerous spirit sent to kill her. The brothers reveal that her mother was part of an ancient secret society responsible for protecting the world from a vengeful demon — a society whose five members were all murdered on the same night.

Now Kennedy has to take her mother's place in the Legion if she wants to uncover the truth and stay alive. Along with new Legion members Priest and Alara, the teens race to find the only weapon that might be able to destroy the demon — battling the deadly spirits he controls every step of the way.

Suspense, romance, and the paranormal meet in this chilling urban fantasy, the first book in a new series from Kami Garcia, bestselling coauthor of the Beautiful Creatures novels.
Missmatch (Lauren Holbrook, #1)


Author
: Erynn Mangum
Pages
:Currently reading on page 97 of 365
Acquired
: Library
Published
: 2007
Goodreads Blurb:
Lauren Holbrook has found her life's calling: matchmaking for the romantically challenged. And with the eclectic cast of characters in her world, there's tons of potential to play "connect the friends."Lauren sets out to introduce Nick, her carefree singles' pastor, to Ruby, her neurotic coworker who plans every second of every day. What could possibly go wrong? Just about everything.
Tell me what you're currently reading or what you've read this week!