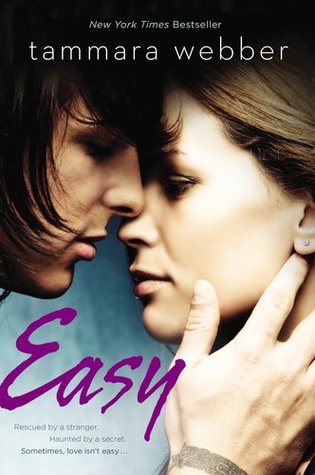 Author:
Tammara Webber
Series:
Contours of the Heart, #1
Pages:
310
Challenge:
Goodreads Challenge 2014
Genre:
New Adult
Acquired:
Bought
Rating:
★★★★
½
Goodreads Summary:
When Jacqueline follows her longtime boyfriend to the college of his choice, the last thing she expects is a breakup two months into sophomore year. After two weeks in shock, she wakes up to her new reality: she's single, attending a state university instead of a music conservatory, ignored by her former circle of friends, and failing a class for the first time in her life.

Leaving a party alone, Jacqueline is assaulted by her ex's frat brother. Rescued by a stranger who seems to be in the right place at the right time, she wants nothing more than to forget the attack and that night - but her savior, Lucas, sits on the back row of her econ class, sketching in a notebook and staring at her. Her friends nominate him to be the perfect rebound.

When her attacker turns stalker, Jacqueline has a choice: crumple in defeat or learn to fight back. Lucas remains protective, but he's hiding secrets of his own. Suddenly appearances are everything, and knowing who to trust is anything but easy.
My Thoughts:
Easy
is centered around a young teenage Jacqueline, who after she and her boyfriend decide to call it quits, gets thrown into a terrible encounter after she leaves a party one night. When an unlikely guy saves her, Jacqueline is forever grateful. As the attraction between Jacqueline and her rescuer grows stronger, both are aware that their secrets could possibly ruin it all and tear them apart.
I really liked Jackie's character! She's a smart, talented musician with an innocent personality. On the other hand another character, Lucas is definitely your typical bad boy that defends the girl.... BUT.... his past is so shocking, it allows you to understand why he acts like he does.
I liked how believable the story was and how the events in the novel unfold the way that they do. It provided for a more enjoyable read for me because I could see those things unfortunately easily happening to anyone in real life. I also loved that you could see how the individual characters dealt with their own past demons separately as well as seeing that dealing with certain traumatic past experiences takes time to heal from. It's a long, hard process but with the support from the people closest to you, they can help you continue to move forward and I think that this concept shows in the novel.
This was my second new adult book, and I can say that I enjoy this genre so far! One of the things I like most would have to be reading about college- aged characters. With me being in college, I like getting a chance to read about characters closer to my age than say someone around sixteen or seventeen.
My favorite scenes would have to be learning about Lucas's interesting past, as well as the different relationships and friendships throughout the book. I liked most the realistic elements in the book. It was different from the young adult contemporary I had previously read. I definitely gravitate towards New Adult more so than Young Adult contemporary I have noticed recently..... (For some reason, contemporary books bore me.... lol with exception of a few..... granted I have not read very many due to this, but based on what I've read I just find that I have a hard time getting into Contemporary.).....
I liked least Kennedy's character, Jacqueline's previous boyfriend. Overall, one word to describe him... ANNOYING...
Ending
: I liked how the story wrapped up, I felt that all the points I needed answered were taken care of so I was content with how the story ended.
Rating
: 4.5/5: I thought it was really good, and I would recommend it to new adult lovers or those who would like to try new adult, but don't know where to start.
Cover
: 3/10 ... yeah not a big fan of this one.
Book 2: Breakable
Book 3: Sweet (Expected Release: April 27, 2015)
If you have read this book, let me know your thoughts below!!