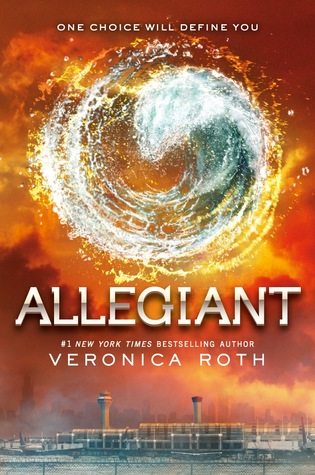 Author:
Veronica Roth
Series:
Divergent Trilogy
Pages:
526
Challenge:
Goodreads Challenge 2014, 2014 Book Bingo Challenge
Genre:
Sci-Fi, Dystopian
Acquired:
Borrowed from friend
Rating:
★★★½
Goodreads Summary:
The faction-based society that Tris Prior once believed in is shattered—fractured by violence and power struggles and scarred by loss and betrayal. So when offered a chance to explore the world past the limits she's known, Tris is ready. Perhaps beyond the fence, she and Tobias will find a simple new life together, free from complicated lies, tangled loyalties, and painful memories.

But Tris's new reality is even more alarming than the one she left behind. Old discoveries are quickly rendered meaningless. Explosive new truths change the hearts of those she loves. And once again, Tris must battle to comprehend the complexities of human nature—and of herself—while facing impossible choices about courage, allegiance, sacrifice, and love.

Told from a riveting dual perspective, Allegiant, by #1 New York Times best-selling author Veronica Roth, brings the Divergent series to a powerful conclusion while revealing the secrets of the dystopian world that has captivated millions of readers in Divergent and Insurgent.
My Thoughts:
Allegiant
continues the stories of Tris and Four and their journey to understanding and uncovering more about the world that they live in. As they travel outside the fence and observe the differences from the world they came from they meet people that soon shatter everything that they have known about themselves and where they live. Throughout the book, Tris and Four make alliances, enemies, and friendships as they uncover the truths about their world and slowly try to put the pieces together of their own existence.
In the ending of the trilogy,
Allegiant
is told from both the point of views of Tris and Four. Although this took some time to get used to, I liked seeing into Four's thoughts and having a better understanding of him as a person aside from what Tris saw on the outside. Though I appreciated the different POVs I did at times get confused and have to continually look back to the beginning of the chapter heading to see who's POV I was actually reading. So the POVs were both loved and hated.
Problems with the book? Well the POVs as I said, as well as Four's character. I really needed him to man up and be the tough badass Four that I remembered. In this book I felt that he was incredibly less intimidating, less tough, and altogether a bit soft. Although seeing into his true nature, personality, and personal thoughts was a nice touch at times, I need the Four from Book 1 to be there and he sadly wasn't there for most of the time.
I also a more favorite scene or part to mention would be the whole trying to get into the weapons room scene. It was the most interesting and exciting part of the book and I liked it well enough despite the outcome which I felt could have been avoided but still made for an interesting scene.
Overall the plot was good, although at times I came to find the book a bit boring . I found myself wishing things would hurry on along and get to the point or the next action scene especially during the first half of the book.
The ending of the book didn't surprise me being that I was spoiled from a completely random Youtube video but overall the book as a whole was okay. Despite some of my issues the book was good ending to the series and I plan to read more of Veronica Roth's work as she publishes them. I give it
★★★½
stars and would recommend this series to anyone looking for a sci-fi/dystopian series with a strong female character and a different and exciting plot line that will keep you guessing throughout the entire series.