Currently I am still reading City of Ashes by Cassandra Clare; I never got back to it, but hopefully this next week I'll make more progress. I also finished The Testing by Joelle Charbonneau as well as The Girl of Fire and Thorns by Rae Carson. Lastly I just started Uninvited by Sophie Jordan today. Hopefully I'll be able to finish all of these this week!
City of Ashes (The Mortal Instruments, #2)


Author
: Cassandra Clare
Pages
: Chapter 5
Acquired
: Ebook
Published
: 2008
***No Goodreads Blurb to avoid any spoilers since this is the 2nd in the series.***
The Testing (The Testing, #1)


Author
: Joelle Charbonneau
Pages
: 336
Acquired
: Library
Published
: 2013
Rating
: 4/5
Goodreads Blurb:
Keep your friends close and your enemies closer. Isn't that what they say? But how close is too close when they may be one in the same?

The Seven Stages War left much of the planet a charred wasteland. The future belongs to the next generation's chosen few who must rebuild it. But to enter this elite group, candidates must first pass The Testing—their one chance at a college education and a rewarding career.

Cia Vale is honored to be chosen as a Testing candidate; eager to prove her worthiness as a University student and future leader of the United Commonwealth. But on the eve of her departure, her father's advice hints at a darker side to her upcoming studies--trust no one.

But surely she can trust Tomas, her handsome childhood friend who offers an alliance? Tomas, who seems to care more about her with the passing of every grueling (and deadly) day of the Testing. To survive, Cia must choose: love without truth or life without trust.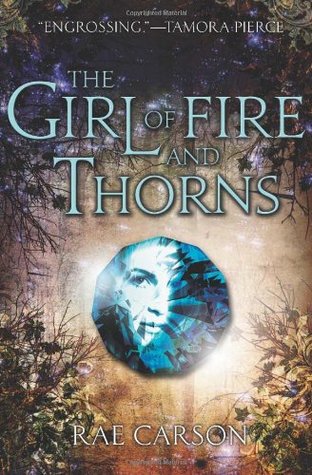 The Girl of Fire and Thorns (Fire and Thorns, #1)


Author
: Rae Carson
Pages
: 423
Acquired
: Library
Published
: 2011
Rating
: 4/5
Goodreads Blurb:
Once a century, one person is chosen for greatness.
Elisa is the chosen one.

But she is also the younger of two princesses, the one who has never done anything remarkable. She can't see how she ever will.

Now, on her sixteenth birthday, she has become the secret wife of a handsome and worldly king—a king whose country is in turmoil. A king who needs the chosen one, not a failure of a princess.

And he's not the only one who seeks her. Savage enemies seething with dark magic are hunting her. A daring, determined revolutionary thinks she could be his people's savior. And he looks at her in a way that no man has ever looked at her before. Soon it is not just her life, but her very heart that is at stake.

Elisa could be everything to those who need her most. If the prophecy is fulfilled. If she finds the power deep within herself. If she doesn't die young.

Most of the chosen do.
Uninvited (Uninvited, #1)


Author
: Sophie Jordan
Pages
: Currently reading page 30 of 384
Acquired
: Library
Published
: 2014
Goodreads Blurb:
The Scarlet Letter meets Minority Report in bestselling author Sophie Jordan's chilling new novel about a teenage girl who is ostracized when her genetic test proves she's destined to become a murderer.

When Davy Hamilton's tests come back positive for Homicidal Tendency Syndrome (HTS)-aka the kill gene-she loses everything. Her boyfriend ditches her, her parents are scared of her, and she can forget about her bright future at Juilliard. Davy doesn't feel any different, but genes don't lie. One day she will kill someone.

Only Sean, a fellow HTS carrier, can relate to her new life. Davy wants to trust him; maybe he's not as dangerous as he seems. Or maybe Davy is just as deadly.

The first in a two-book series, Uninvited tackles intriguing questions about free will, identity, and human nature. Steeped in New York Times bestselling author Sophie Jordan's trademark mix of gripping action and breathless romance, this suspenseful tale is perfect for fans of James Patterson, Michelle Hodkin, and Lisa McMann.
Tell me what you're currently reading or what you've read this week!