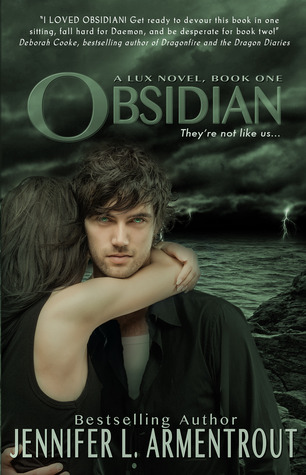 Author:
Jennifer L. Armentrout
Series:
Lux, #1
Pages:
335
Challenge:
Goodreads Challenge 2014, 2014 Book Bingo Challenge
Genre:
Paranormal
Acquired:
Bought (Kindle Ebook)
Rating:
★★★★★
Goodreads Summary:
Starting over sucks.

When we moved to West Virginia right before my senior year, I'd pretty much resigned myself to thick accents, dodgy internet access, and a whole lot of boring... until I spotted my hot neighbor, with his looming height and eerie green eyes. Things were looking up.

And then he opened his mouth.

Daemon is infuriating. Arrogant. Stab-worthy. We do not get along. At all. But when a stranger attacks me and Daemon literally freezes time with a wave of his hand, well, something... unexpected happens.

The hot alien living next door marks me.

You heard me. Alien. Turns out Daemon and his sister have a galaxy of enemies wanting to steal their abilities, and Daemon's touch has me lit up like the Vegas Strip. The only way I'm getting out of this alive is by sticking close to Daemon until my alien mojo fades.

If I don't kill him first, that is.
My Thoughts:
When Katy moves from her hometown in Florida to West Virginia, her life was turned upside down when her mom gets the urge to start over in a new town. As she settles into her new life she is moved across the street from the mysterious Black family. When suspicious events start to unfold, Katy finds out an unbelievable secret about the Blacks.
I felt that I immediately connected with Katy's character because she is a book blogger, although it was completely unnecessary to the story I still liked the little shout-out to the book blog community. I was also more interested since we both shared a common hobby. I liked Katy's spunk as well, she has a no-nonsense attitude that expels a sense of "Don't try to walk over me, because you won't succeed."
Among the other characters, the Black family and their friends were a crowd of very interestingly mysterious people. Daemon Black was the epitome of an arrogant, cocky, over-protective, guarded, and insanely good- looking Alien of sorts (the Alien bit is definitely not a spoiler since you can get that from the Front Cover and synopsis of the book but I wished it would have not been so obvious, would have liked the mystery of trying to figure out what he was). And then there's Dee (sister to Daemon), a very sweet and friendly girl that just wants to live as normal a life as possible with human friends like Katy.
This story is pretty far-fetched, but that's what I love about it. With this being my second alien book, I was definitely happily hooked. The first alien book I tried I had to put it down due to disinterest but with this book that was not a possibility since I read it in a matter of hours.
I liked Katy's character development into a stronger, braver, and more understanding girl with a good head on her shoulders. With Daemon, he developed into a less guarded, less blunt and harsh boy-alien with more compassion. Overall this book was definitely something that I wasn't expecting to love especially with one of the ugliest and cheesiest covers I've seen in a long time. My favorite scene was really anytime Daemon was described as being shirtless.....and also the Arum action scenes. I liked Daemon and Katy's complicated love-hate relationship most. What I liked least was the vagueness surrounding the D.O.D. and the goverment's significance. It was all confusing to me and I just wanted more clear information that I could understand. Maybe in later books this is fixed and questions surrounding them are answered.
On another note, the plot was very addicting and the characters were all likable (meaning I didn't find myself screaming on the inside at any annoying or ridiculous characters, so A+++). I felt that the storyline was executed well and I loved the entire book from start to finish. With the ending, I was satisfied with how Jennifer L. Armentrout left it and now I will have to buy the next books in the series to marathon the rest of the story ASAP.
I would give the cover a 2/10 (In this case it pays to not judge a book by its cover!) I give the story a big 5/5 stars!!! I would recommend to paranormal lovers who like books about Aliens. I think everyone should try it out, it was a quick read, very addicting, and at the least you will be entertained with a good story to possibly get you out of a reading slump. I at least was NOT left disappointed!!
If you have read this book, let me know your thoughts below!!