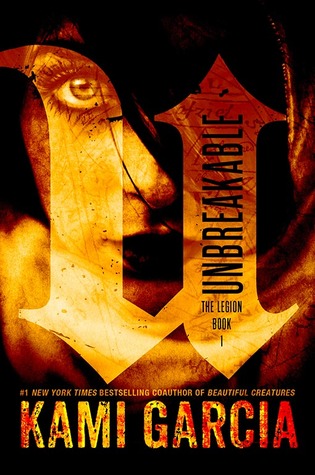 Author:
Kami Garcia
Series:
The Legion, #1
Pages:
305
Challenge:
Goodreads Challenge 2014, 2014 Book Bingo Challenge
Genre:
Paranormal
Acquired:
Library
Rating:
★★★★
½
Goodreads Summary:
Supernatural meets The Da Vinci Code in this action-packed paranormal thriller, the first book in a new series from New York Times bestselling author Kami Garcia.

I never believed in ghosts. Until one tried to kill me.

When Kennedy Waters finds her mother dead, her world begins to unravel. She doesn't know that paranormal forces in a much darker world are the ones pulling the strings. Not until identical twins Jared and Lukas Lockhart break into Kennedy's room and destroy a dangerous spirit sent to kill her. The brothers reveal that her mother was part of an ancient secret society responsible for protecting the world from a vengeful demon — a society whose five members were all murdered on the same night.

Now Kennedy has to take her mother's place in the Legion if she wants to uncover the truth and stay alive. Along with new Legion members Priest and Alara, the teens race to find the only weapon that might be able to destroy the demon — battling the deadly spirits he controls every step of the way.

Suspense, romance, and the paranormal meet in this chilling urban fantasy, the first book in a new series from Kami Garcia, bestselling coauthor of the Beautiful Creatures novels.
My Thoughts:
When Kennedy finds her mother dead, she is launched into a paranormal world she never knew existed. As she uncovers secrets about her mother's past, she realizes that in order to stop an incredibly powerful demon from basically taking over the world, she must assume her mother's position as a member of the Legion along with four other members all teenagers like her.
I really liked Kennedy's character; she gets thrown into this paranormal world so quickly after her mother's death you would expect her to be a wreck and overwhelmed by it all. But on the contrary, she handles herself well considering her circumstances. She was definitely a strong, determined, and independent character that wanted to try her best to help and understand everything despite her position and situation.
On to the other characters: I loved the twins, especially Jared for obvious reasons as he is the bad boy twin with a story and an interesting past! Also Priest is pretty bad-ass in his own right. He is the brains within the group with his great inventing and engineering skills.... hooking the group up with crazy weapons and tools to help them along the way. All the members fit together so perfectly as a group with all their strengths and weaknesses.
Problems? I just felt that it took really long for Kennedy to find her place in the group and purpose in the book. But even with that flaw, I liked that she was head-strong and refused to be looked at as the weakling of the group since she didn't quite understand her place right away.
It was definitely different from what I expected, it was suspenseful and mysterious with a bit of paranormal romance thrown in for good measure. My favorite scene was the scene with Priest and Kennedy in the the well. It was creepy, intense, and suspenseful! I liked the group's sense of togetherness and how they looked out for each other at all times the most. I disliked how choppy and thrown in the stories of the other character's past were; I really wanted more of a cohesive, clear understanding of each of their stories and how they were all connected and came together. The info about their parents/guardians were vague and brushed over so quickly that I couldn't really grasp who they were and where they can from.
Cover: 2/5. Not a personal favorite.
Rating: 4.5/5 I loved the overall story and plot twist! It was definitely an enjoyable read.
The ending ended in a bit of a cliffhanger so I'm interesting in seeing where the story goes with the next book in the series!
I would recommend to someone who wants to read a paranormal book with demons and ghosts with action and adventure throughout!
If you have read this book, let me know your thoughts below!!